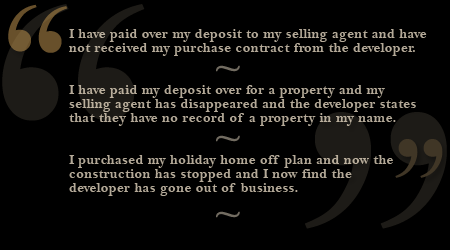 Solutions
In market place of today there are new problems that have occurred due to the economic downturn which has effected developers and selling agents alike leaving many of them out of business and the clients of such companies high and dry with no where to turn to for advice and assistance as to what to do next.
If you are one of these people, who through no fault of their own now find themselves in this unfortunate situation, please feel free to contact us as we will be able to help. Does this situation apply to you?
These types of problem are unfortunately very common today and we can assist to resolve any issue that you may have.
For those people who still wish to have their own place in the sun and have lost money elsewhere, we have options for you and can relocate your deposit to a choice of completed developments and or individual properties.
For those people who now find that their own personal circumstances have changed and even if their property were to complete and they just no longer can afford it, then we will explore every angle to have this deposit refunded to you. There are many people who have not received a contract direct from the builder and have only a contract with their selling agent. Legal action can be taken to resolve this matter for you.
Legal Property Solutions has been founded to offer you the customer a legal solution to whatever problem you may have with your property.